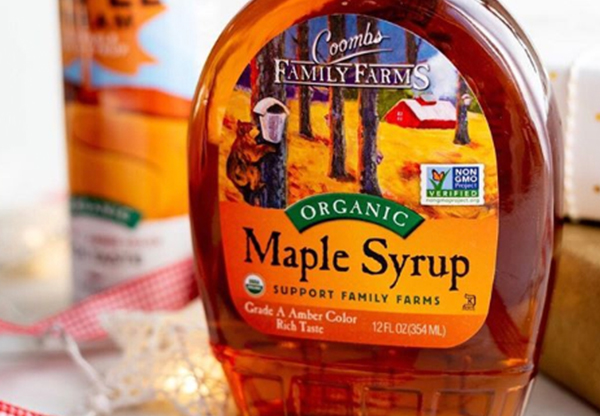 Celebrate National Maple Syrup Day on December 17 with Coombs Family Farms
From Pandemic Pancakes to Homemade Gifts and Craft Cocktails, Pour On the Pure Maple
Brattleboro, Vt. – December 14, 2020 – Coombs Family Farms, a seventh generation producer of pure maple and the number one brand of organic maple in the U.S., today announced gift ideas and serving suggestions to celebrate National Maple Syrup Day on December 17. To observe this holiday, Coombs Family Farms asks maple fans everywhere to spread love and #ShareSomethingSweet.
This year's National Maple Syrup Day arrives with record-breaking supply and demand of maple already in progress. U.S. sales of maple syrup is projected at $400 million this year, up 29 % YoY according to SPINS Data. Coombs Family Farms has experienced record sales growth of 31% in SPINS Data during that same period for organic maple syrup alone, and a 45 % increase across all products at retailers nationwide. Coombs Family Farms organic sales are particularly outpacing total maple syrup growth in the Natural Market.
Demand for maple can be attributed to pandemic baking, a return to "slower" breakfasts at home, and a craving for comfort food.
In addition to record-breaking sales, 2020 maple production also set records. U.S. maple syrup was estimated at 4,372,000 gallons in 2020, up 4.6%, according to the June 11 Crop Production report from the USDA. Vermont was by far the nation's largest maple syrup producer at 2.22 M gallons, up 7% from 2019 and accounting for 51% of the US total.
"It's been a big year for real maple syrup," said Arnold Coombs, seventh generation sugarmaker. "Families are slowing down, cooking and eating together, and above all, remembering what's important in these difficult times."
This holiday season, Coombs Family Farms recommends Maple Glazed Donuts for a festive breakfast table. With mixing, piping, and sifting, it doubles as a fun family culinary project. Homemade Maple Granola is another hands-on activity that produces a homemade gift. Start a homey new tradition with Maple Pecan Sweet Potato Casserole or brush up culinary skills with Roast Pork Loin with Quince Maple Compote. Either pairs well with Delicata Squash Salad with Kale and Maple Walnut Vinaigrette and Maple Cranberry Sauce to make a beautiful meal.
Holiday movies call for a batch of Maple Kettle Corn. Leave the stress-inducing baking projects to Netflix, instead opting for Gooey Skillet Maple Walnut Blondies. Raise a glass while the screen door slams on 2020 with Maple Cocktails. For more serving suggestions and recipes, visit https://www.coombsfamilyfarms.com/the-seasons-secret-ingredient/.
Coombs Family Farms' Maple Stream is the first spray-able maple syrup and a new contender for this year's best stocking stuffer or small gift. Coombs Family Farms Maple Stream comes in a 7-oz recyclable can that streams out mess-free, portion-controlled organic maple syrup. At the push of a button, Maple Stream dispenses just the right amount of Organic Grade A amber color and rich taste maple syrup. For traditionalists, Coombs Family Farms offers nostalgic candy made from pure maple according to the same family recipe perfected in 1925.
Coombs Family Farms offers a variety of formats and grades from Amber Color, Rich Taste to the stronger Dark Color, Robust Taste, in both pure and organic. A traditional glass 12 oz bottle of Coombs Family Farms organic maple is pretty enough to leave out on the table. For easy transport, a 32 oz plastic jug of pure maple is a practical gift any family can put to delicious use.
For more product information about pure and organic maple, visit https://www.coombsfamilyfarms.com/products/.
About Coombs Family Farms
For seven generations, Coombs Family Farms has produced great-tasting, 100 percent pure and organic maple syrup. Coombs Family Farms sources maple from over 3,000 small family farms that share a commitment to quality, environmental stewardship, and sustainable forestry management. As the number one organic maple brand in the country, Coombs Family Farms takes pride in working with farmers throughout the North East. For further information visit www.coombsfamilyfarms.com. Coombs Family Farms is also on Instagram and Facebook @coombsmaple.